Porosity in stencil cleaning fabrics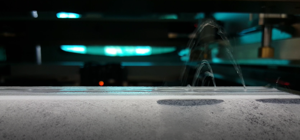 By Pär Gester, SMT Express

The fabric in SMT stencil cleaning rolls must have a so-called high coverage. Otherwise, the fabric will have areas where the density is either too high or too low to perform well. This short article shows why.
All known fabrics used in SMT stencil cleaning rolls are non-woven fabrics. Nonwoven fabrics are made from long, short or "endless" fibres, bonded together by chemical, mechanical, heat or solvent treatment.

High coverage, or in other words small variations on fabric density, is essential for the fabric used in SMT wiper rolls. The most common material in SMT wiper rolls on the market is spunbond hydroentangled cellulose/rayon/polyester. Such fabrics have a structure in the machine, or feed, direction with lanes having either high density or very low density.

The areas, or lanes, with high density, will not adsorb solder paste well. The solder paste will remain on the surface of the fabric and smear out on the stencil. Lanes with low density will not have enough fibres to hold on to the solder particles. They will either remain on the stencil or be sucked into the vacuum system, causing higher maintenance costs.

Hyperclean PX3800 was designed with high coverage in mind. The video shows clearly the difference between a standard, hydroentangled fabric and the polypropylene thermal bonded Hyperclean fabric. When spraying the solvent on a hydroentangled fabric, voids in the fabric creates small geysers of solvent. The direct consequences are:
Waste of solvent
The risk for solder paste contamination
Operator health hazards
The cleaning yield is low as the coverage obviously is bad.
In the video, you can see that Hyperclean PX3800 quickly absorbs and spreads the solvent in a controlled way. High coverage and utilization of advanced manufacturing methods are the reason for the superior performance.

Hyperclean is designed for SMT stencil cleaning in every detail!